Rome Army Air Field was renamed, on September 20, 1948, in honor of Lt. Col. Townsend E. Griffiss of Buffalo, N.Y., an Army Air Corps pilot who died in an aircraft accident in England on February 15, 1942. While returning from Russia, the British aircraft with Lt. Col. Griffiss aboard was mistaken for an enemy aircraft and shot down by two Royal Air Force pilots off the southwest coast of England. Lt. Col. Griffiss was the first US airman to lose his life in the European Theater, during World War II. After his death, the Busy Park military installation in England was named Camp Griffiss in his honor.
He earned his pilot wings at Brooks and Kelly Fields, TX and became an instructor at Brooks until May 1925 when he went to Hawaii for duty with the 19th Pursuit Squadron. He returned to California as a first lieutenant in June 1928 for a three-year tour at March Field to be an instructor and commandant of cadets. In September 1933, he transferred to Bulling Field, Washington, D.C. as commanding officer of the Air Corps Detachment. Griffiss AFB traces its name to a Buffalo aviator killed over Europe during World War 2. Townsend E. Griffiss was born in Buffalo, N.Y. on April 4, 1900 and received an appointment to the US Military Academy where he graduated in June 1922.
B-52 bomber on Mohawk Drive just inside the East Chestnut Street entrance to Griffiss Business and Technology Park is a reminder of the bomber's role in American history.


The bomber has a 185-foot wingspan and weighs 100,000 pounds. The plane flew in Vietnam and the 1991 Persian Gulf War.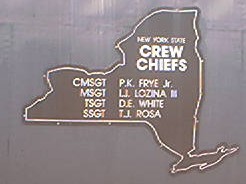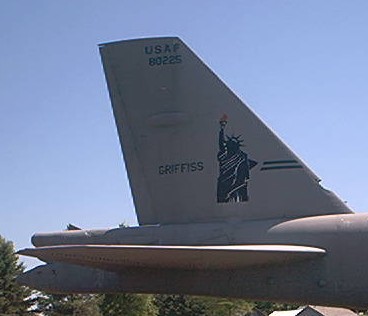 The eight-engine Stratofortress "Mohawk Valley", which is illuminated at dusk, was the first B-52 to land in Rome, when Griffiss became an active Strategic Air Command base in 1959.