I'm, 35, was born on May 6, 1967; I'm 5' 7"; I have brown eyes and wear glasses, some of the time, but for the majority of the time, I now wear contacts, something I never thought I'd ever be able to wear; dirty blond hair; I work for Zogby International as a pollster. I now work for APAC Customer Service as a Customer Service Representative for VoiceStream Wireless. It's an interesting job, albeit agravating at times. (I'll try to be truthful!)
Here is some information about my personal history: I was born in St. Petersburgh, FL; I grew up in Southampton, Long Island, NY; I went to school in Southampton; I've lived in Rochester, NY as an infant, and have resided on Long Island for 33 1/2 years. I currently reside in beautiful New Hartford, NY. If I have one, I'll include a picture of myself engaging in an activity I enjoy, such as a sport or hobby, or maybe even meeting a famous singer/actor. Of which I have already met, see picture below!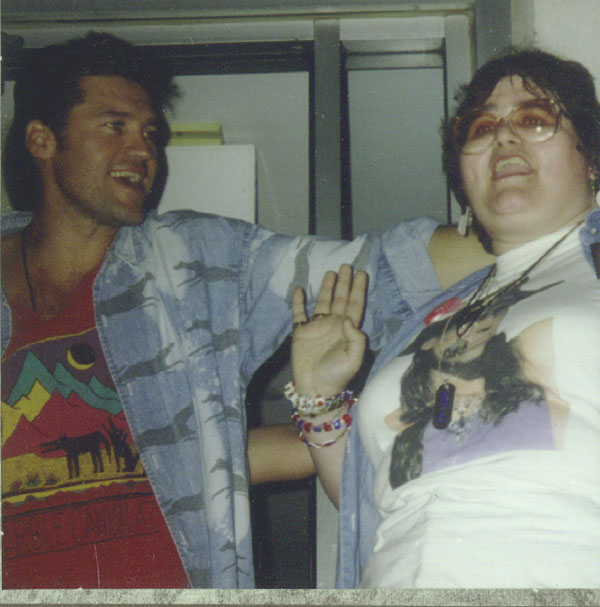 WOW! Can you believe it? Me and BRC! What a nite to remember!
I have worked in several places since I graduated High School in June of 1985. I got my first job working for MVB Agency Inc. in the fall of 1985. After working there for nearly 10 years, I went to work for East End Driving School/Circle Auto Insurance, where I was a licensed NYS Insurance Broker. After working there for nearly 6 years, I went to work for King Kullen in Eastport and only worked there for 6 months. I worked for Zogby International, which is an international polling firm. I currently work for APAC Customer Services, in Utica , NY. (A job with frustrations? Hard to believe, huh? Take my word for it! LOL!)

My Favorites

Here's a list of some of my favorite movies: Harry Potter and the Sorcerer's Stone; Gone with the Wind, The Sound of Music, The Wizard of Oz, Rebel Without A Cause, Giant, All Disney Movies, All Star Wars Movies, ET, Lethal Weapons 1-4, Rocky 1-5, Indiana Jones Trilogy, Die Hard 1-3, Harry Potter and the Sorcerers Stone, and many, many more, these are just a few to let you know how diverse I am.

Here's a list of some of my favorite music: BRC, Randy Travis, Brooks & Dunn, Tim McGraw, Faith Hill, Reba, Toby Keith, Alabama, The Eagles, The Steve Miller Band, Hall & Oates, Huey Lewis & the News, and many, many others. I love Country Music the best, but I love to listen the music of the '70's & '80's. I have also been turned onto Jon Bon Jovi & Def Leppard, courtesy of my boyfriend, Ed, and I love their music!